Last weekend I had the honor of helping my dear friend make her wedding day grand. Here's a little photo journey of her big day.
I couldn't sleep the night before, I just wanted to be sure I didn't forget anything on the list. I had quite a few jobs for the day, hair and make-up for the bride, coordinating the reception, making sure everyone was where they were supposed to be and on and on and...
...hair-did? check.
The bride and her bridesmaids
her something old
She's ready.
The first look.
they choose to take all their pictures before the wedding, there were only a few of us that witnessed this moment.
the adorable flower girl
ring bearers keepin busy
happy & in love.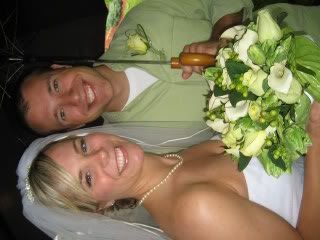 not even the rain could stop the love.
Mr. and Mrs. Parrish
June 9th, 2007